Tandem Skydive with the WA Skydiving Academy in Perth
This is the latest skydiving innovation to arrive in Australia, it is the most simple and safest method by which almost anyone
can experience the thrilling excitement of skydiving.
The tandem parachute comprises of two large square chutes (main and reserve).
The parachutes and main harness are worn by the Tandem Master and the passenger wears the secondary harness which is made to fit snugly before being attached securely to the front of the Tandem Master.
Six packages have been formulated to accommodate everyone starting from 6,000ft, 8,000ft, 10,000ft, 12,000ft, 14,000ft or 15,000ft. .
Freefall time varies with altitude, from 10 to 66 seconds where you can experience freefall, learn some aerial skills or
watch others fly around you.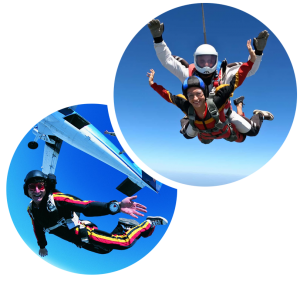 By 4,000ft the tandems are under canopy, giving you plenty of time to learn the characteristics
of a parachute for a later descent. Or, if it's a once in a lifetime experience, sit back
in the harness, feel the breeze, enjoy the view and savor the exhilarating taste of adrenalin.
Throughout the whole descent the Tandem Master is in complete control right up to
the point where the Tandem pair make their usually stand-up landing in the target area.
Tandem jumps do not require any official training and only take about 20 minutes
of briefing before the jump itself.