West Australian Skydiving and Parachute Training Information
There are 2 types of 1st time jumps available and it is really a
matter of personal choice as to which one you choose.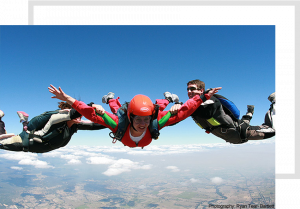 2. AFF Beginners First Jump Course
Experienced Skydivers/Fun Jumpers can find Information on our Licensed Skydivers/Fun Jumpers Page.
The Tandem Jumps require very little, in the way of instruction with traditionally only a 20 minute briefing required to show you exactly what is involved and what to do. You are secured to the front of an experienced Tandem Master prior to exiting the aircraft, throughout the 200km/h freefall, the parachute ride and landing….easy, and a great gift idea. click on the Tandem button for more information. AFF (Accelerated Freefall) beginners first jump courses are run regularly with training tailored to your requirements. Certainly more involved than the Tandem jump but the feeling of self esteem once completed makes the extra effort worthwhile. Two freefall Instructors jump with you actually holding on to you to and monitor and help out where required and once you are under parachute you simply follow them home to the landing area. See the AFF page for more Accelerated Freefall information. What is a Static Line Jump? Static Line jumps rely on you exiting the aircraft by yourself at low altitude, usually from only 3,500ft. As you drop away from the aircraft by yourself you depend on a line attached to the aircraft one end and to the parachute the other end, to activate your main parachute. NB: The Academy does not offer Static Line jumps as a beginners first jump option.
RESTRICTIONS:
Minimum Age – Minimum 12 years for Tandem (Exceptions can be made) – 16 years for
Accelerated freefall (AFF) Parent/guardian consent is required for all jumpers under 18 years of age. There is NO Maximum age!
All jumps are subject to weather conditions and other factors which may affect the view, cause delays or cancellation. Delays or cancellations will be at the discretion of the Academy's Drop Zone Safety Officer (DZSO) and rescheduling will be performed when necessary.
Weight/General Fitness:
The maximum weight limit for all types of jumps is 95kg. Conditions may permit up to 110kgs for Tandem jumps only.
An additional $5 per kg will be charged when over 95kgs
It is the responsibility of all clients and/or their agents to ensure they meet with this criteria at the time of booking. Bookings made which are then are not able to be performed due to this provision may forfeit the booking deposit.
Body height will be considered before allowing any jump to go ahead with a maximum height of 195cm.
General fitness will be assessed mainly through a health questionnaire. Known health conditions will not necessarily prevent a jump going ahead but considerations may have to be made to manage clients properly.
All Tandem clients must demonstrate their ability to lift their legs while in a seated position and sustain this position to the satisfaction of the Briefing Instructor prior to enplaning. Bookings made which are then are not able to be performed due to this provision may forfeit the booking deposit.
Directions to the Pinjarra Dropzone
Driving from Perth City, take the Kwinana Freeway South, Exit Freeway at Pinjarra Road, turning left onto Pinjarra Road, You will reach a T junction and traffic lights at the end of Pinjarra road turn Left at lights, then Drive 200m turn Right onto Pinjarra-Williams Road and we are located 4kms on the right-hand side from turn off.
West Australian Skydiving Academy Pty Ltd
ACN 009 244 508
Information for Licensed/Experienced Skydivers – Fun Jumpers!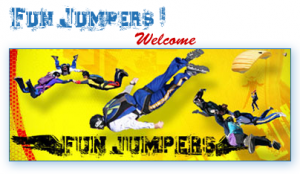 Special
15,000ft – $45 That's as high as you can get without oxygen!
12-14,000ft – $43
10,000ft – $35
Hop 'n' Pops 5,000 – $26
Gear High – $30 per jump
Buy 10 jump tickets and get 10% OFF! That's only $40.50 per jump!
Tandem Skydiving Booking Terms & Conditions
BOOKING A JUMP!
Simply secure your booking with a credit card by telephone or over the net. We recommend that you try and get the earliest available time slot that is available on the day of your choice at the time you make your booking. By securing the earliest time slot you will maximise your chance of getting the jump done in the event of delays caused by weather etc.
Clients must be aware of the Restrictions that apply to each jump, which are listed on the basics page of this site.
WAITLISTING BOOKINGS
The Academy is available 7 days a week but relies on a sufficient number of bookings to ensure jumping goes ahead on any given day. Clients booking ahead for days that cannot be confirmed, due to lack of numbers, can "Waitlist" their preference with a deposit.
The Academy will endeavour to encourage other booking enquiries to choose days that already have Waitlisted clients and help ensure the minimum number of bookings for a days jumping is achieved.
All Waitlisted clients must confirm the status of their booking by contacting the Academy 24hrs in advance.
Unless stipulated otherwise at the time of booking, all Waitlisted bookings that fail to be confirmed will be moved to another date selected by the client and may be Waitlisted again.
CONFIRMED BOOKINGS
All confirmed bookings must contact the Academy just prior to departing for the dropzone and speak directly with a duty staff member to establish if any delays are affecting a days operations. Regardless of local weather conditions at a clients point of departure the conditions can be completely different at the dropzone which might delay the days scheduling.
All clients must be prepared to be on hold for up to 3 hours before any form of rescheduling will be considered to avoid the terms and conditions outlined in our Cancellation Policy.
DEPOSITS
Minimum of AU $150 – Non Refundable Deposits are a client's commitment to honour and persevere with a booking, even in the event of having to reschedule.
GIFT VOUCHERS / CERTIFICATES
These are available for all of the services offered by the Academy or for any monetary amount and will generally have additional stipulated conditions attached which must be read in conjunction with conditions determined on this page, including a cooling down period in which clients may change their mind.
Vouchers/Certificates are valid for a period of 12 months from the date of issue and then become void. Vouchers may be transferred to any of the services offered by the Academy.
The Academy accepts no liability in the event of lost or stolen Vouchers / Certificates.
CANCELLATION POLICY
48 hours notice of cancellation or rescheduling must be given by a client or the clients agent to avoid penalty. At the discretion of the Academy any or all monies will be forfeit.
Gift vouchers/certificates will be deemed void if cancelled without 48 hours notice and are not refundable.
To avoid penalty, cancellation or rescheduling due to adverse weather conditions, aircraft availability, equipment serviceability, or for any reason, will be at the discretion of the Academy.
All jumps are subject to weather conditions and other factors which may affect the view, cause delays or cancellation. Delays or cancellations will be at the discretion of the Academy's Drop Zone Safety Officer (DZSO) and rescheduling will be performed when necessary.
REFUNDS
Unless specific conditions are established at the time of booking refunds will not include the deposit amount or an amount for any part of a service provided by the Academy to a client.
Refunds on Gift vouchers/Certificates will incur an admin fee generally stipulated on that document.
OPERATIONAL CRITERIA
Skydiving operations are governed by the APF (Australian Parachute Federation) Operational Regulations and are affected by many other factors including weather. Considerations may mean location preferences may not be available on any given day.
The Academy reserves the right to determine if operations can go ahead based on our assessment of a clients ability and physical capability, at any given time or location without repercussion.
Parachute / Skydiving operations are perceived as dangerous by most people in the general community but we will endeavour to minimise this risk and uphold our excellent record by continuing to apply sound policies to our operations.
YOUR SAFETY IS OUR CONCERN WHICH WE WILL NOT JEOPARDISE BY PLACING COMMERCIAL GAIN BEFORE ANY OF OUR SOUND POLICIES THAT HAVE BEEN ESTABLISHED SINCE 1987.
– West Australian Skydiving Academy –
Tandem & AFF Skydiving Instructors with WA Skydiving Academy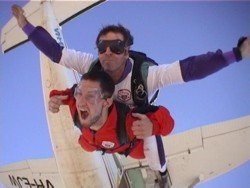 Robin O'Neill
A founding member of the WA Skydiving Academy. With over 4,000 jumps to his credit since 1983, Robin has worked on various Drop Zone's throughout Australia and New Zealand. Robin has been jumping since 1983 and instructing since 1986. He is involved in all the aspects of the Academy's training program and is responsible for day-to-day running and co-ordination of operations and is the Chief Instructor at the Academy.
Russell Tanian
(that's the one with his tongue poking out)
Tandem Master Extraordinaire, AFF Instructor, Camera Flyer, Packer 'B' Russell has been with the Academy for nearly 4 years and has logged over 1000 skydives.
Instructional Policy
The academy has a highly experienced team of Instructors, Pilots, Tandem Masters and Freefall cameramen on hand for all the training programs offered. We like to work with about eight students per Instructor, so we can monitor your progress closely and get to know you on a more personal level. In doing this, we hope to encourage you to finish the jump course and become, either a fun or competitive jumper.
Skydive Equipment used by the WA Skydiving Academy
Accelerated Freefall Program
All the equipment in use at the Academy is the latest in design technology. The parachutes are high – performance ram – air (square) parachutes. These are highly maneuverable and are designed to give soft, usually stand-up landings, even on your very first jump.
Audible height warning devices are fitted to student helmets as a backup prompt for you to pull your own ripcord. Control whilst under parachute is also made easier by the fact a radio is fitted to your helmet so that voice commands can back up the instructions that were given to you during your ground training.
A complete set of course notes is supplied for the theory component of the training and jumpsuit and goggles are all supplied for the jump. All you need to supply is loose fitting, comfortable clothing and a pair of running shoes (sneakers).
Utilising modern technology and training methods, safety in the sport has improved dramatically. Now accessible to the wider community, skydiving has become one of the world's fastest growing sports, while retaining the ultimate in adrenalin rushes!
Tandem Program
Tandem systems utilised are Micro Sigma manufactured in the United States by Vector and are equipped with Cypres Automatic Activation Devices (AAD).
Main parachutes are Jyro – Icarus.
All WA Skydiving Academy Instructors are Highly Experienced and Share a Passion for Safe Skydiving.
FREE Facilities at the W.A.Skydiving Academy
Showers, toilets, covered packing area, BBQ and picnic facilities are available at the DZ. All facilities are provided to you free of charge on your first jump course and you are encouraged to stay down and celebrate with us, especially if you are jumping on a weekend.
In summer, regular trips are made throughout the day to Oakley Dam on the escarpment for a swim overlooking the Peel region and Scarp Pool situated in the local bushlands. Alternatively, the DZ is only 20 minutes from Mandurah for a cool-off at the beach on the drive back to Perth.
Catering
A catering service is available on weekends. The dropzone has a self-service drinks and confectionery vending machines. If you prefer to self-cater, there is limited fridge space at your disposal.
Further information and videos are available for viewing at our main office, located at 458 William Street,in Northbridge, between 10.00am – 6.00pm, Mon-Fri.
Free airport transfer provided for Tandem jumps into the City of Perth dropzone.
WHAT ELSE IS IN THE AREA OR ON THE WAY TO THE DROPZONE?
Scenic Spots
There are many scenic picnic and tourist spots assessable in the Peel area 10-15 mins from the Drop Zone. Scarp Pool (above) a section of the Murray River surrounded by natural bush and rock pools.
Oakley Dam a fresh water swim with breath taking views, it's prettiest at sunset. Lue Bay Beach located north of the Dawesville Cut in Mandurah. Picnicking and Paddling (Close to DZ or en-route) Pinjarra public BBQs by the Suspension Bridge in the heart of Pinjarra. Ravenswood River Resort canoeing and paddling is available in front of the Hotel on Pinjarra Road. A great place to BBQ. Serpentine Falls National Park, just off the SW Highway in Serpentine. Has fantastic bush walks, swimming and picnic areas. Serpentine Falls National Park, just off the SW Highway in Serpentine. Has fantastic bush walks, swimming and picnic areas. Mandurah Murray River Cruises, enjoy an unforgettable cruise through the Mandurah / Murray River water ways.
Points of Interest
Edenvale and Pinjarra Heritage Trail, visit the Pinjarra Visitor Centre for information. The trail takes you along the banks of the Murray River to the Suspension Bridge, Murray Square and various historic buildings. Hotham Valley Steam Train, visit the Pinjarra Visitor Centre for information. Travel over one of the last operating lightly built developmental railways. Forest Heritage Centre includes an 11m high tree top canopy walk. This uniquely leaf shaped building telling the story of the forest is located in Dwellingup.
In touch with the Animals
Dolphin Encounters Mandurah offers the total dolphin experience, whether you choose to swim with them or observe from the boat. Parrots of Bellawood house a collection of 500 Native Parrots. Experience hand feeding the parrots in a huge walk in aviary. (Relocating soon to Ravenswood Sanctuary). Peel Horse Back Adventures offer siding along early pioneering tracks and had day or night tours to offer. Marapana Wildlife World offers everything for the family, including your chance to meet some of Australia's friendliest animals. Touch and hand feed kangaroos and deer, or take a walk through the koala enclosure.
Wineries (definitely an after jumping event)
Tirnanog Winery specialises in wines of the fruit variety. Baldivis Estate Winery offers tastings of their award winning wines and enjoyable lunches. Cape Bouvard Winery is a small boutique winery constructed from local limestone on the shores of Lake Clifton, offers wines and ports for tasting.
Skydiving Specials
We think every one of the jumps we offer, is "Special", but check these deals…!
Tandem Specials
Tandem DVD package – now includes "FREE" photos
(save $85) only $120
Height Guarantee – you'll only pay for the height you go to. If operating conditions (weather) do not permit us to go as high as intended we will refund you the difference!
Location Guarantee – Calling it as it is – Skydive Perth means you will actually skydive in Perth, Skydive Pinjarra or onto Mandurah Beach means into those locations and not be used to a completely different location hours away.
Learn to Skydive Specials
Accelerated Freefall (AFF) – Learn how to skydive yourself with highly qualified Instructors jumping with you, doing our 9 Stage course with all stages from 5 onwards filmed automatically, so you can show off to all your mates!
Available throughout the year!
Prepay only – $2500
International "A" licence package – includes the complete AFF course plus 10 additional jumps from up to 15,000ft, includes parachute packing lessons, "A" licence study guide and you're "A" licence exam to take you through to qualify for your first International sporting licence.
Only $2975
50 Jump International "B" Licence package – includes everything in the "A" licence package including additional coached jumps to complete the "B Rel" training syllabus, a formal Parachute Packer qualification, plus 22 more skydives, qualifying you to jump with up to 10 other jumpers.
(Save $176) $5274
100 Jump "C" Licence, Pro Skydiver – takes you through the "A" and "B" licence packages plus all the jumps required to qualify for an International "C" licence and able to fly a camera in freefall with enough skills to earn a living within the skydiving industry.
(Save $656) $7,044
200+ Jump "Wingsuiter" package – includes everything in the A – C licence packages plus all the jumps required for an international "D" licence and power coaching from our highly qualified wingsuit coaches to get you Wingsuit ready.
(Save $1820) $11,880
Contact the office on: 1300 13 78 55 to book the above specials!
WA Skydiving Academy is Skydiving for Charity
WA Skydiving Academy has been linked to charity skydiving since 1984. We believe there is no better way to raise money for your favourite charity than challenging yourself to the extreme. It's a very emotive way to show your support and to gain the support of others. Imagine telling your friends you plan to throw yourself out of a perfectly good aeroplane from 8000ft to raise money for a great cause.
All you need to do is click on the My Causes link here to register your page with 'My Causes'. Follow the steps to create your sponsorship page. Next step begin raising the $500 you will need to jump ($240 goes to WA Skydiving to pay for your jump). But remember this is a charity jump and you can raise much more than the $500 required. Once you have reached your target it is time to contact WA Skydiving Academy on 1300 137 855 and book in your jump. Make sure you involve your friends, family and work mates. Ask your company if they do the $ for $ matching. Most will. You can ask your local video stores to put posters up or get a collection tin at your local deli. Find your local business willing to sponsor you and wear their logo while you jump. There are many ways to help you raise the funds so what are you waiting for?
Another way to really make some money for your charity of choice is organise an event day. You can have as many as 40 jumpers per day. And our team here at WA Skydiving Academy are very experienced at running these events. Call us directly to organise and book the whole day. 1300 137 855
"Thank you so much WA Skydiving Academy for helping us with our first inaugural 'Jump for Charity'. We had nearly 80 people over the whole weekend jump and raise over $50,000 for The Cancer Support Association of WA Inc. Without your amazing patience and skill at helping us organise this event we would never have 'gotten off the ground' thank you so much.
Kylie Dalton
General Manager of the Cancer Support Association of WA 2007
Terms & Conditions
» Contact WA Skydiving Academy again once you have raised the minimum amount of $500 for your chosen charity.
» No bookings will be made until that time.
» 48 hours notice of cancellation or rescheduling must be given by the client.
» Weight restrictions apply, 95kgs or below ( conditions may permit up to 110kgs) An Addition of $5 per kg over 95kgs will apply at the cost of the client on the day.
» The minimum age is 14 years in Australia for a tandem jump, exceptions can be made with the approval of the Australian Parachute Federation (APF).
Employment at WA Skydiving Academy
EMPLOYMENT
Fulltime and part-time positions available. Assistance provided with endorsements onto relevant equipment and overseas license conversions.
Minimum Packer "B" Qualification
*Training Available
INSTRUCTORS WANTED
Instructor "B": AFF
TANDEM MASTERS
Expansion of our Tandem operation now creates employment opportunities for qualified Tandem Masters equipped with Handcam.
OFFICE / SALES STAFF
Good telephone manner and basic computer skills. Lousy pay but a great work environment with earning capacity tied in with sales commissions.
PILOTS
Minimum 200hrs or Commercial Pilots Licence plus 100hrs in command and 10hrs on type (C-182).
OTHER STAFF
Nil Current.
For all employment enquiries, email: jobs@waskydiving.com.au
Mail: PO Box 439, NORTHBRIDGE WA 6858
Phone: 419558900